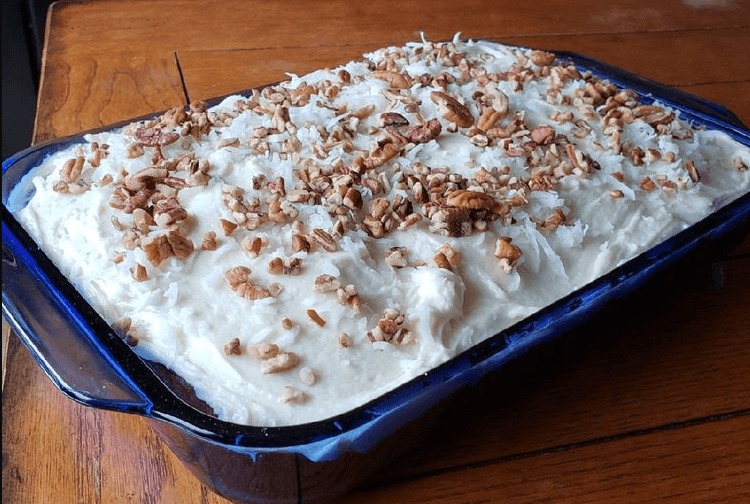 Ingredients
For The Cake
1 cup (2 sticks) unsalted butter, room temperature
2 cups all-purpose flour
2 cups sugar
5 eggs
1 teaspoon baking soda
1/4 teaspoon salt
1 cup buttermilk
2 teaspoons vanilla extract
1 teaspoon shredded coconut
1 cup pecans, roughly chopped
For The Icing
1 cup (2 stick) unsalted butter, room temperature
1 (8 oz.) package cream cheese, room temperature
3-4 cups powdered sugar
1 teaspoon vanilla extract
1 cup shredded coconut
1 cup pecans, roughly chopped
1/4 teaspoon salt
How To Make Italian Cream Sheet Cake
Preheat oven to 350º F and lightly grease a jelly roll baking sheet with butter or non-stick spray.
In a medium bowl, whisk together flour, baking soda and salt, then set aside.
In a large bowl or mixer, cream together butter and sugar for 4-5 minutes, or until fluffy and lightened in color.
Add eggs and beat until fully incorporated, then mix in vanilla extract.
Beginning and ending with the dry ingredients, alternate between adding flour mixture and buttermilk mixture to cake mix, mixing until just incorporated.
Fold in coconut and pecans, then pour batter into greased baking sheet.
Place in oven and bake for 17-20 minutes, or until toothpick inserted in center comes out mostly clean. Remove from oven and let cool.
Start frosting by creaming butter and cream cheese together in a large bowl or mixer. 3-4 minutes, or until fluffy.
Working gradually, add in powdered sugar and salt, mixing until combined, then beat in vanilla extract and shredded coconut.
Frost cake and top with chopped pecans. Slice, serve and enjoy!