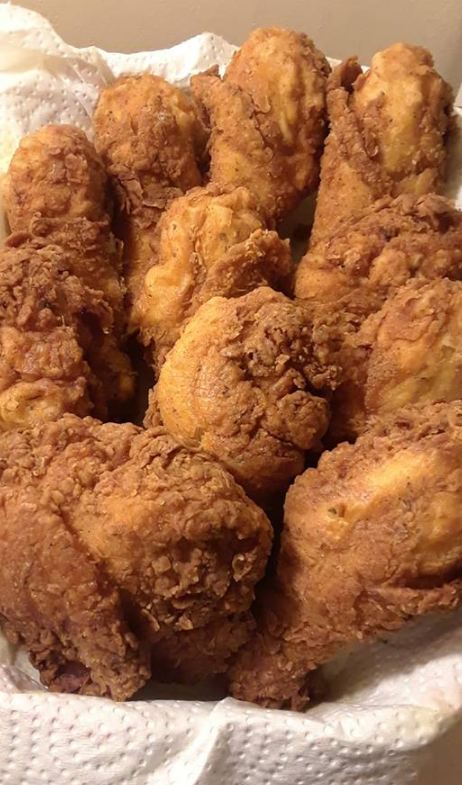 Ingredients
3.3 lbs / 1.5 kg whole chicken split (or individual bones in the skin on chunks – see notes)
3-4 cups / 750ml – 1 liter vegetable oil, or as needed for deep frying (see notes)
Wet Mix
2 cups / 500 ml of yogurt
1 teaspoon each: paprika, cayenne pepper, white pepper, onion powder, garlic powder, salt
Dry mixed
2.5 cups / 375g all-purpose flour
1 tablespoon paprika
2 teaspoons each: oregano, baking powder
1.5 teaspoons salt, plus an extra amount to sprinkle at the end
1 teaspoon each: onion powder, garlic powder, cayenne pepper
1/2 teaspoon black pepper
How To Make Homemade Buttermilk Fried Chicken
In a bowl, mix the wet mixture with the chicken, making sure it is completely covered with the marinade. Cover and leave in the fridge for at least 4 hours, but the longer the better (up to 24 hours). Remove at least 30 minutes before you intend to use it to bring room temperature (important – frying cold chicken will cause it to stick and become chewy).
Meanwhile, mix all the dry mix. I discovery this easy in a small tray, but you can also utilize a shallow bowl. Dip a piece of chicken in the mixture and cover it totaly . Really make sure you get the mixture in every portion of the chicken, as this will give you those "flaky" parts that make the chicken extra crunchy. Put on a tray and repeat with the remaining chicken.
Heat up enough oil to comfortably cover the depths of your largest piece of chicken. Drop a piece of the mixture, if it buzzes slowly on top, then you are good to go. You want the oil to be roughly 175 ° C / 350 ° F – 180 ° C / 356 ° F. The temperature will drop when the chicken hits the oil, and that's okay, just try to keep the temperature around 320 ° F / 160 ° C. You should get medium heat.
In batches of 3 (4 max.) Sweetly place chicken in oil. Frying them well for 6-8 min on every side or until golden and deep white through the center (see notes). If you are not confident in deep frying, just try one piece first.
Lay each piece on a wire rack with paper towels underneath when you're done and sprinkle them with salt to pull out the last bit of moisture. The chicken should be hot with boiling juices. In all conditions, the internal temperature of the chicken is 165F / 75C (keep in mind that it continues to cook a little once I take out the oil).