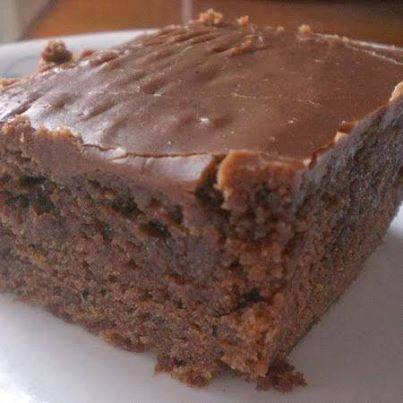 Double Chocolate Coca Cola Cake is a moist and flavorful dessert made with Coca Cola. It combines cocoa powder and chocolate for a rich taste. The cake batter includes ingredients like oil, butter, sugar, flour, eggs, buttermilk, and baking soda. It's baked in a 13 x 9 inch pan. The frosting is a mix of butter, cocoa powder, cream, vanilla, and confectioner's sugar. The result is a unique twist on traditional chocolate cake with a delightful hint of Coca Cola.
Ingredients:
1 cup Coca Cola (not diet)
1/2 cup vegetable oil
1 stick unsalted butter
6 tablespoons cocoa powder
2 cups granulated sugar
2 cups all-purpose flour
1/2 teaspoon salt
2 large eggs
1/2 cup buttermilk
1 teaspoon baking soda
1 teaspoon vanilla extract
For the Frosting:
1 stick unsalted butter
3 tablespoons cocoa powder
6 tablespoons cream or milk
1 teaspoon vanilla extract
3 3/4 cups confectioner's sugar
Directions:
In a saucepan, combine Coca Cola, vegetable oil, butter, and cocoa powder. Bring to a boil.
In a separate large bowl, mix together sugar, flour, and salt. Pour the hot Coca Cola mixture over the dry ingredients and beat until well combined.
Add in the eggs, buttermilk, baking soda, and vanilla extract. Continue to beat until the batter is smooth.
Pour the batter into a greased and floured 13 x 9 inch baking pan. Bake at 350 degrees Fahrenheit for 20 to 25 minutes, or until a toothpick inserted into the center comes out clean.
Remove the pan from the oven and let it cool for about 10 minutes before frosting.
For the Frosting:
In a saucepan, combine the butter, cocoa powder, and milk. Heat until the butter has melted.
Beat in the vanilla extract and gradually add in the confectioner's sugar. Continue beating until the frosting is smooth and creamy.
Spread the warm frosting over the cake.
Enjoy!
Tip: For an extra special touch, you can sprinkle some chocolate shavings or mini chocolate chips on top of the frosting before it sets. This cake pairs wonderfully with a scoop of vanilla ice cream!