Oven-roasted smoked sausage and potatoes is a simple and delicious dish where smoked sausage and potatoes are cooked together in the oven until tender and flavorful. It's an easy one-pan meal that requires minimal preparation and results in a satisfying and hearty combination of flavors.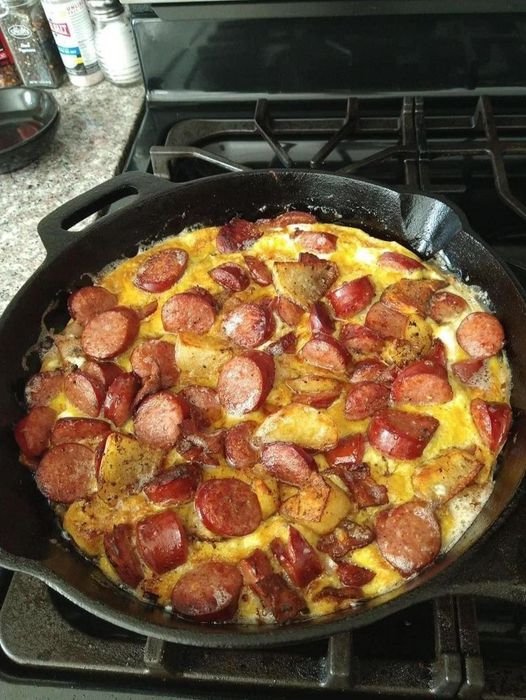 The dish typically involves cutting smoked sausage into rounds or chunks, along with potatoes (such as baby red or golden potatoes), and combining them with onions and seasonings. The sausage and potatoes are then coated with oil and tossed with a blend of spices, such as salt, pepper, smoked paprika, and Cajun spice. The mixture is spread out on a baking sheet and roasted in the oven until the potatoes are cooked through and tender.
The result is a delicious combination of smoky, savory sausage and perfectly roasted potatoes, with the flavors of the spices permeating throughout. It's a versatile dish that can be served as a main course or used as a side dish to accompany other meals. It's also a great option for a quick and easy weeknight dinner or a satisfying meal for gatherings and potlucks.
Ingredients:
1 lb smoked turkey sausage, cut into rounds
1 large onion, peeled and chopped
6 baby red potatoes
6 baby golden potatoes
1 tablespoon olive oil
1/2 teaspoon fine sea salt
1/2 teaspoon freshly ground black pepper
1 teaspoon smoked paprika
1 teaspoon Cajun spice
Instructions:
Preheat your oven to 400°F (200°C). Line a large baking sheet with tin foil and spray it with cooking spray. Set it aside.
Cut the smoked turkey sausage into large chunks. Chop the onion into large chunks as well.
Wash and pat dry the baby red and golden potatoes. Cut the baby potatoes in half.
In a large bowl, combine the sausage, onions, and baby potatoes.
Drizzle the sausage mixture with olive oil, and toss to coat all the ingredients evenly.
In a small bowl, combine the fine sea salt, black pepper, smoked paprika, and Cajun spice.
Sprinkle the seasoning mixture over the sausage mixture, and toss again to coat everything in the spices.
Pour the sausage and potato mixture onto the prepared baking sheet, spreading them out evenly.
Place the baking sheet in the oven and cook for 55 minutes. Check the potatoes' tenderness by inserting a fork into them to ensure they are fully cooked. If they're not done, cook for another 5 minutes.
Once the potatoes are tender and fully cooked, remove the baking sheet from the oven.
Serve the oven-roasted smoked sausage and potatoes as a delicious and satisfying meal.
Enjoy your oven-roasted smoked sausage and potatoes! It's a flavorful and easy-to-make dish that combines the smokiness of the sausage with the hearty goodness of roasted potatoes.