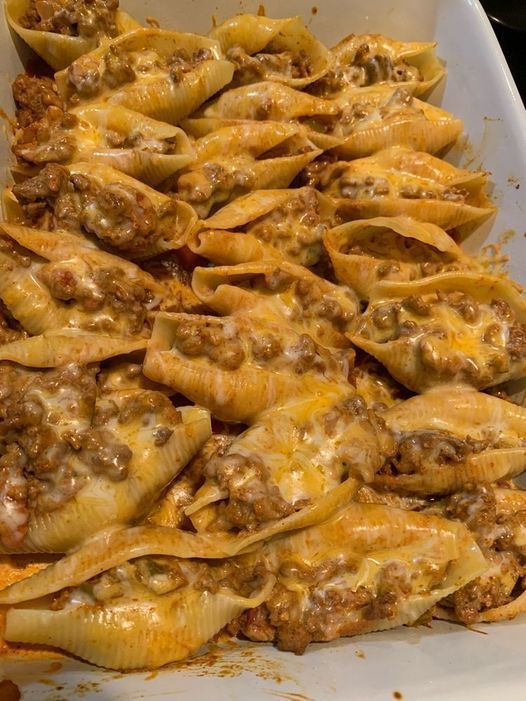 What do you need to make Taco Stuffed Shells
1 ½ pounds ground beef, lean
1 packet Taco seasoning mix
2 ½ garlic, freshly minced
4 ounces cream cheese, softened
1 cup Mexican or Fiesta Cheese blend, shredded
1 cup salsa
½ cup green onions
8 ounces large Shell pasta
Instructions
FIRST STEP:
Boil the pasta shells according to package directions. Drain and rinse
Preheat the oven to 350*
SECOND STEP:
Saute the ground beef in a skillet, drain excess fat from the meat
Add in the minced garlic and saute 2 more minutes
THIRD STEP:
Stir in the taco seasoning and the salsa
Cut the cream cheese into pieces and toss in, stirring until the cheese melts
FOURTH STEP:
Spray a 9×13 baking pan with nonstick spray
Place the large shell pasta opening up in the prepared pan
FIFTH STEP:
Using an ice cream scoop, spoon the mixture into the shells
Top with the shredded cheese and place into the oven
SIXTH STEP:
Bake for 15 to 20 minutes, until cheese is melted and bubbly
Top with the chopped green onions before serving.
Enjoy!