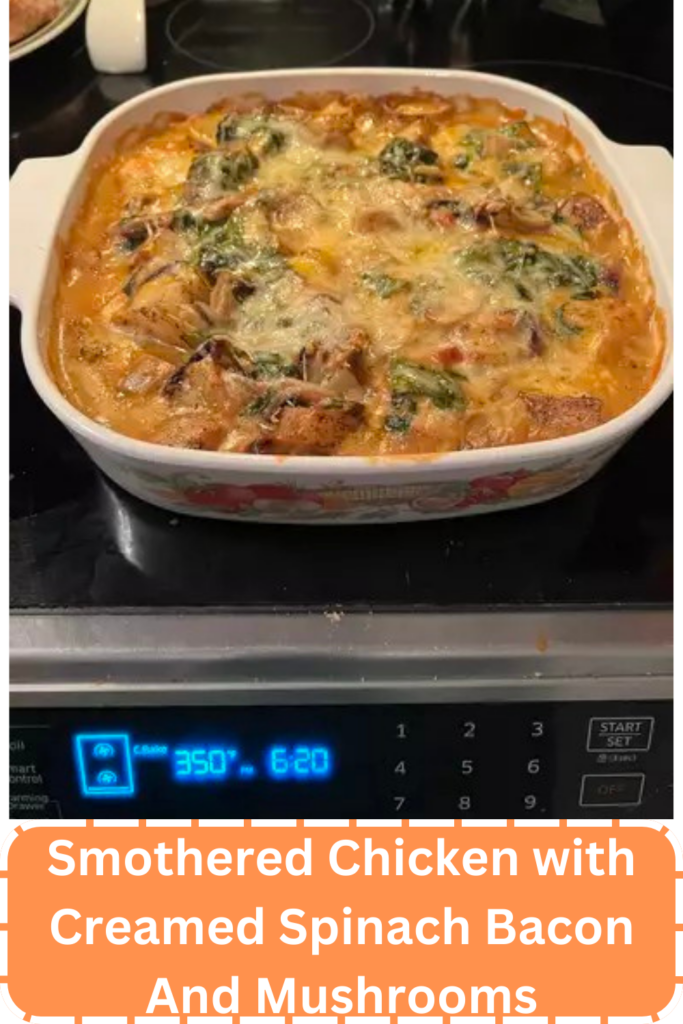 Smothered Chicken with Creamed Spinach, Bacon, and Mushrooms is a hearty and flavorful dish that combines tender chicken breasts with a creamy and savory spinach, bacon, and mushroom sauce. Here's a recipe to make this delicious meal:
Ingredients:
4 boneless, skinless chicken breasts
Salt and pepper to taste
1 tablespoon olive oil
4 slices bacon, chopped
8 ounces mushrooms, sliced
2 cloves garlic, minced
4 cups fresh spinach leaves
1 cup heavy cream
1/2 cup grated Parmesan cheese
Fresh parsley, chopped (for garnish)
Preparation:
Season the chicken breasts with salt and pepper on both sides.
Heat the olive oil in a large skillet over medium-high heat. Add the chicken breasts and cook for about 6-8 minutes per side, or until cooked through and no longer pink in the center. Remove the chicken from the skillet and set aside.
In the same skillet, add the chopped bacon and cook until crispy. Remove the bacon from the skillet and set aside, leaving the bacon drippings in the skillet.
Add the sliced mushrooms to the skillet with the bacon drippings. Cook for about 5 minutes, or until the mushrooms are browned and tender.
Add the minced garlic to the skillet and cook for an additional 1 minute.
Gradually add the fresh spinach leaves to the skillet, stirring until wilted.
Reduce the heat to medium-low and pour in the heavy cream. Stir in the grated Parmesan cheese until melted and combined. Cook for a few minutes until the sauce thickens slightly.
Return the cooked bacon to the skillet and stir to incorporate.
Place the cooked chicken breasts back into the skillet, nestling them into the creamed spinach, bacon, and mushroom sauce.
Simmer the chicken in the sauce for a few minutes until heated through and the flavors meld together.
Garnish with chopped fresh parsley.
Serve the smothered chicken with creamed spinach, bacon, and mushrooms hot, accompanied by your favorite side dishes such as rice, mashed potatoes, or roasted vegetables.