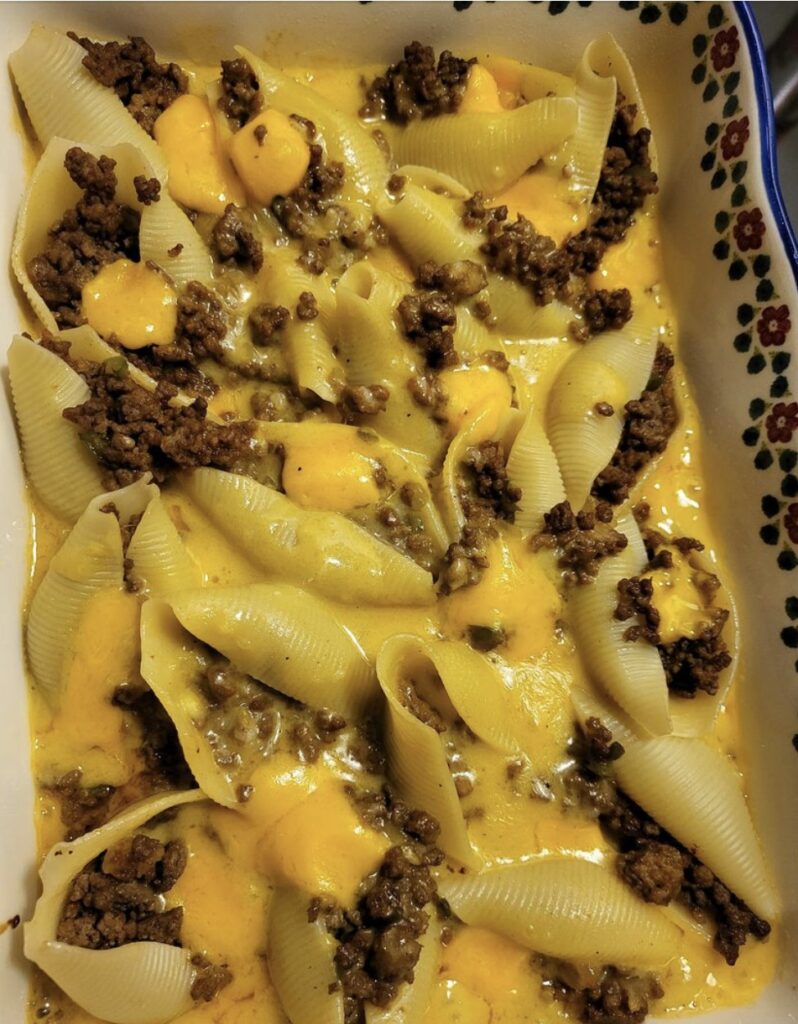 Ingredients
Lean ground beef; I used 1 Pound.
2 Tbsp.Of softened butter.
A diced yellow onion; I used a small one.
A diced green bell pepper; use a small one.
2 Tbsp.Of ketchup.
1 Tbsp.Of Worcestershire sauce.
1/2 Tsp.Of Kosher salt.
1/2 Tsp.Of ground black pepper.
Cheddar cheese; I used 8-ounces, and cut it into small cubes.
Cooked Jumbo pasta shells, I used 24.
1 Tbsp.Of cornstarch.
210 milliliters.Of whole milk.
210 milliliters.Of beef broth.
How To Make Philly Cheesesteak Stuffed Shells And Cheese
Preheat, your oven at 350 degrees Fahrenheit.
Next, brown the ground beef in a big cast iron pan (which browns quite nicely) until a deep brown crust forms before breaking it up.
Stir in the ground beef and brown until a deep crust forms on about 50% of the steak.
After you've removed the meat (but don't throw away any of the fat), add the butter, onions, and bell peppers.
Let it brown for around 2 minutes before stirring, and let it brown for another 2 minutes before stirring.
Return the steak to the pan and stir well. Then, while stirring, add the ketchup, Worcestershire sauce, salt, and black pepper to the pan.
Remove from the heat and spoon the sauce into the pasta shells. Additionally, each shell should be topped with cheese cubes (use half the cheese for this).
Reheat the beef broth, milk, and cornstarch in the same pan over medium heat until the mixture is thickened.
Continue whisking in the remaining cheddar cheese a bit at a time for 3-5 minutes, or until thickened.
Pour roughly half of the sauce into the shells and set them aside. To melt the cheese, place the dish in the oven for 10 minutes.
Finally, drizzle the remaining sauce over the top of each serving.