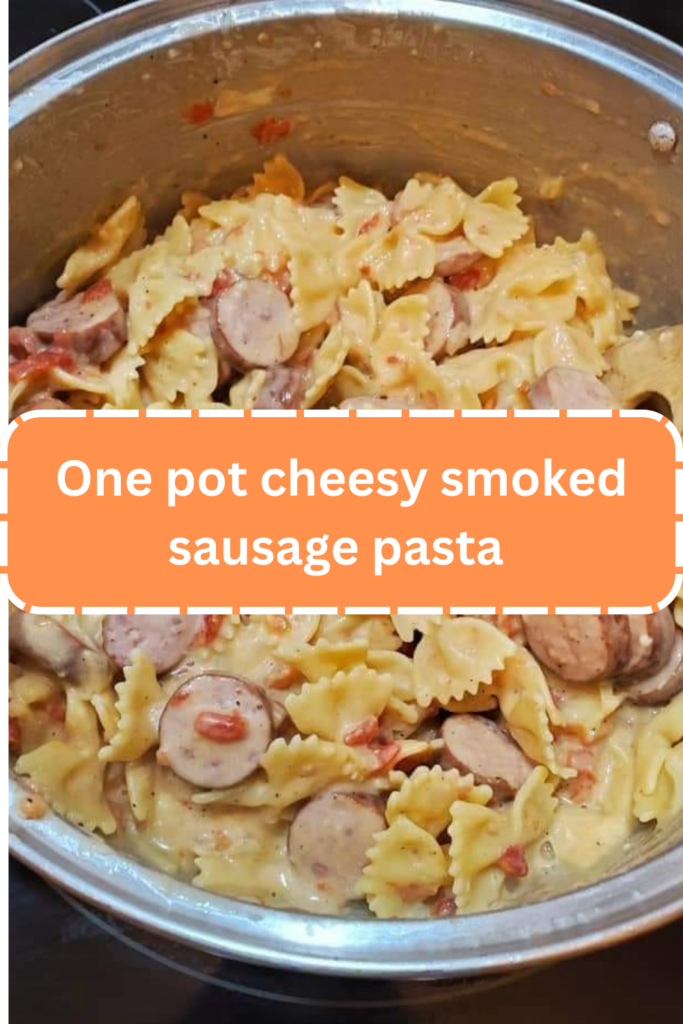 One Pot Cheesy Smoked Sausage Pasta is a flavorful and easy-to-make dish that combines smoked sausage, pasta, vegetables, and cheese in a single pot. It is a complete meal that is cooked together, minimizing the cleanup.
The recipe typically involves cooking smoked sausage slices along with onions and garlic until they are lightly browned. Then, chicken broth, heavy cream, and a can of Rotel (diced tomatoes and green chilies) are added to the pot. Bow tie pasta is cooked in the flavorful liquid until tender. Finally, shredded blend cheese is stirred in, creating a creamy and cheesy sauce that coats the pasta and sausage.
The end result is a hearty and comforting pasta dish with smoky and savory flavors from the sausage, balanced with the creaminess of the cheese. The Rotel adds a touch of spiciness and tanginess to the overall taste. It's a satisfying meal that can be enjoyed by the whole family, and the best part is that it requires only one pot for cooking, making it convenient and easy to prepare.
Ingredients:
1 lb smoked sausage, sliced
1/2 onion, finely chopped
3 cloves of garlic, minced
2 cups chicken broth
1/2 cup heavy cream
1 can of Rotel (diced tomatoes and green chilies)
8 oz bow tie pasta
Salt and pepper to taste
1 cup shredded blend cheese
Instructions:
Heat a pot over medium heat with a little cooking oil. Add the sliced smoked sausage and minced onions. Cook until the sausage is lightly browned and the onions are translucent.
Add the minced garlic to the pot and cook for another minute, stirring continuously.
Pour in the chicken broth, heavy cream, and the can of Rotel (including the liquid). Stir well to combine all the ingredients.
Add the bow tie pasta to the pot and season with salt and pepper according to your taste. Give it a good stir to ensure the pasta is submerged in the liquid.
Increase the heat to bring the mixture to a boil, then reduce the heat to low. Cover the pot with a lid and let it simmer for about 20 minutes or until the pasta is cooked al dente and most of the liquid is absorbed. Stir occasionally to prevent sticking.
Once the pasta is cooked, add the shredded blend cheese to the pot. Stir well until the cheese is melted and fully incorporated, creating a creamy sauce.
Taste the pasta and adjust the seasoning if needed. You can add more salt and pepper according to your preference.
Remove the pot from the heat and let it rest for a minute or two. The pasta will thicken slightly upon standing.
Serve the one pot cheesy smoked sausage pasta hot, and enjoy its delicious and comforting flavors!
Note: You can garnish the dish with some chopped fresh herbs like parsley or basil, if desired.