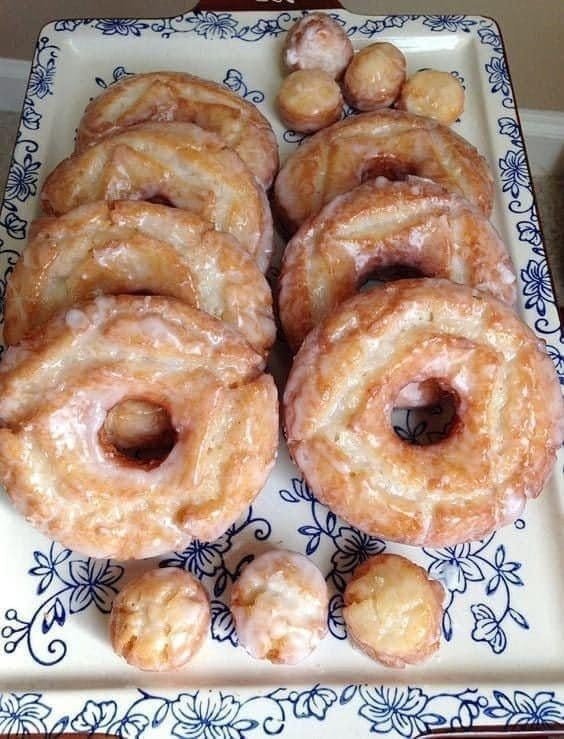 Ingredients
For the donut
1 ¼ cup (240 grams) white sugar
2.5 tbsp. tablespoon (35 grams) butter
5 egg yolks (90 grams)
1 ½ cups (375 ml) sour cream
4 ½ cups (600 grams) all-purpose flour
To find out how much flour to use, click here
1 ¾ tsp. 1 tbsp (15 grams) baking powder (baking powder)
2 tbsp. 1/2 tsp (10 grams) baking soda/baking soda
2 tbsp. (10 ml) cinnamon
1 C. teaspoon (5 ml) nutmeg (be careful… very very tasty!)
1 C. 2 tbsp (12 grams) salt
Frying oil (canola or vegetable)
For The Glaze
3 ¼ cups (400 grams) icing sugar
⅓ cup (100 ml) 3.25% milk
1 C. 1/2 tsp (4 grams) salt
How To Make Old fashioned cake donuts
For a more textured donut, make 3 light triangle-shaped incisions in the surface of the dough before frying, as shown by these dotted lines in this drawing:
In bowl, sifting flour, baking powder also baking soda. Stirring in cinnamon, nutmeg also salt. To book. In another bowl, beat the sugar, butter and egg yolks until the air in the mixture gives it volume – about 2 minutes. Add sour cream and beat on medium speed until smooth.
In the same bowl, add the dry ingredients, 1 tablespoon at a time. Do not beat the dough too much because it will develop the gluten and the preparation will be less fluffy. In plastic wrap, wrap the dough tightly and refrigerate for at least 1 hour (up to a week)
Flour your work surface well as well as the surface of the donut dough. Roll the preparation to a thickness of 1 cm thick. With a pastry brush, remove the excess flour. With a glass or a cookie cutter, cut out donuts and remove a small ball in the middle – which you will fry too!
Preheat the oil to 350°F. There must be at least 5 cm thick in your pan or deep fryer. Place 2 or 3 at a time (they should not overlap). When the donut rises to the surface of the oil, cook for another 30 seconds before turning it over. Cook for about 1 to 1:30 minutes. Let cool on a baking rack. When cool enough to handle, dip in glaze.
For Making The Glaze
In a bowl, beat the icing sugar, milk and salt until smooth. If you want a finer glaze, heat in a bain-marie while whisking.
Enjoy.