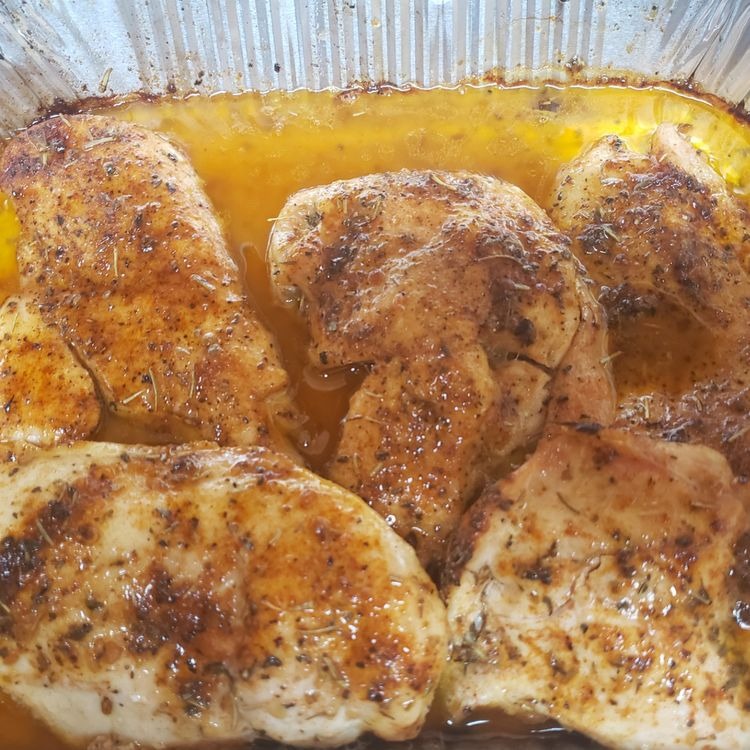 Thank you, Mom! This Butter Baked Chicken is the best decision you will ever make today! If you want the best dish to serve for lunch or dinner, then this is the one for you! Oh, man, you are so in for a treat! Feel free to add more ingredients if you wish. I know that you can do a lot to take this very simple recipe to the next level! Have the most spectacular day, friends, and I hope you all love and appreciate this recipe today. Enjoy!
Ingredients
4 chicken breasts (I use boneless skinless)
1 can evaporated milk (12 oz)
1 cup flour
1 1/2 teaspoon salt
1/8 teaspoon pepper
1/4 cup butter
1 can Cream of Chicken soup
1/4 cup water
How To Make Mom's Butter Baked Chicken
Preheat oven to 350F.
First, pour a little of the evaporated milk in a small dish…just enough to dip your chicken in. After you dip each piece of chicken in the milk, roll it in the flour seasoned with salt and pepper. Melt butter in 13×9 pan and cook the chicken in the melted butter for 30 minutes at 350F.
Mix water, can of soup, and what's left in your can of evaporated milk together. Turn chicken over after 30 minutes of baking and pour soup mixture on top. Bake for 30 more minutes until nice and golden brown.