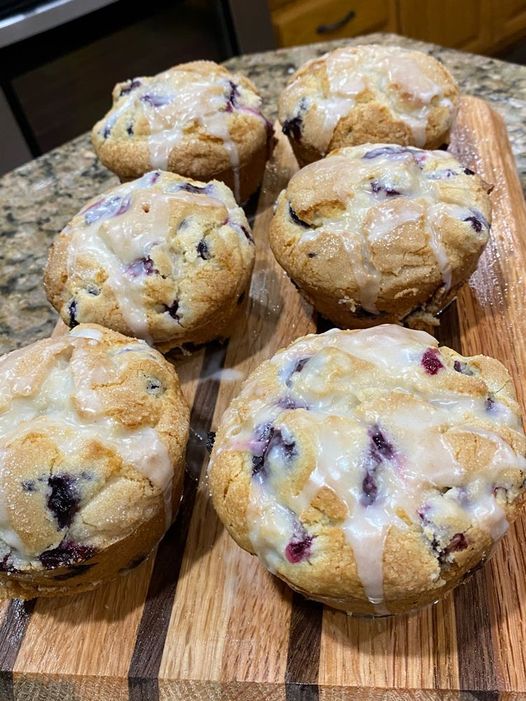 Ingredients
Zest of 2 lemons
1/2 cup granulated suga
1 ½ teaspoons baking powder
1/4 teaspoon baking soda
1 teaspoon cinnamon
3/4 teaspoon salt
2 ⅔ cups all-purpose flour
1/4 cup butter, softened
1/4 cup vegetable oil
1/3 cup light brown sugar
2 large eggs
1 teaspoon vanilla extract
1 cup milk
1 ⅓ cup fresh blueberries
For the Glaze:
3 tablespoons butter, melted
1 cup confectioners' sugar; sifted
1/2 teaspoon vanilla
1 tablespoon lemon juice
1 tablespoons hot water
How To Make Lemon Blueberry Muffins
Preheat oven to 425 degrees F. Line 12 muffin cups with muffin liners or spray with nonstick cooking spray.
In a small bowl, combine the lemon zest and granulated sugar. Use your fingertips to incorporate the zest into the sugar until it is moist and fragrant.
In a small bowl, whisk together the baking powder, baking soda, cinnamon, salt and flour; set aside.
In the bowl of a stand mixer fitted with the paddle attachment, beat butter, lemon sugar and brown sugar on medium-high speed until light and fluffy, about 2 minutes. Beat in eggs, one at a time, vanilla and vegetable oil until just combined. Stir in the flour mixture into the butter mixture alternately with the milk, beginning and ending with the flour until just combined (do not overmix or muffins will be tough). Fold in the blueberries.
Divide batter equally among prepared muffin cups, smoothing the tops. Bake until muffin tops are a pale golden and springy to the touch, 15 to 17 minutes, rotating halfway through baking time. Cool muffins in muffin tin for 5 minutes, then transfer to wire rack and cool 10 minutes before glazing.
To make the glaze, In a medium bowl mix together the melted butter, confectioners' sugar, vanilla lemon juice and water. Whisk until smooth.
When muffins have cooled slightly, dip the muffin crown into the glaze and allow the glaze to harden. Once hardened, dip a second time and allow to harden then serve.