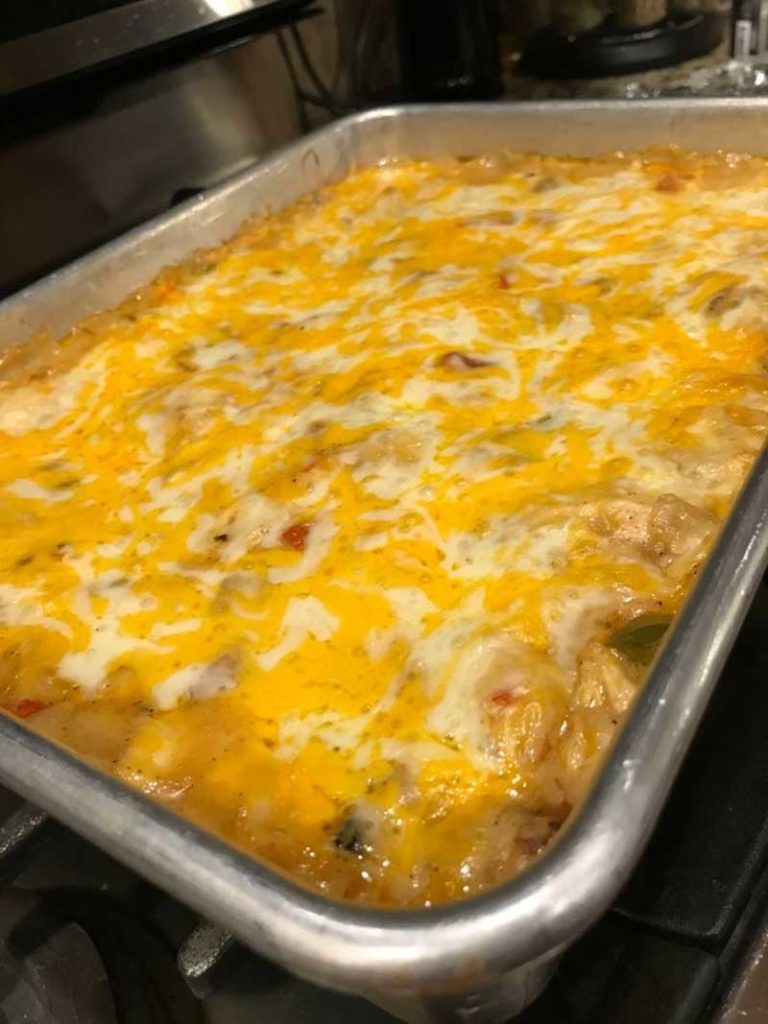 Ingredients
1 tablespoon vegetable oil
1 white onion, diced
1 red bell pepper, diced
1 green bell pepper, diced
1 (10.75 ounces) can condense cream of mushroom soup
1 (10.75 ounces) can condensed cream of chicken soup
1 (10 ounces) can diced tomatoes with green chile peppers (such as RO*TEL(R))
1 cup chicken broth
2 tablespoons sour cream
2 teaspoons ground cumin
1 teaspoon ancho chile powder
1/2 teaspoon dried oregano
1/4 teaspoon chipotle chile powder
1 cooked chicken, torn into shreds or cut into chunks
8 ounces shredded Cheddar cheese
10 corn tortillas, cut into quarters
How To Make King Ranch Chicken Casserole
Preheat oven to 350 degrees F (175 degrees C).
Heat oil in a large skillet over high heat. Saute onion, red bell pepper, and green bell pepper in hot oil until warmed through, about 2 minutes.
Combine onion-pepper mixture, cream of mushroom soup, cream of chicken soup, diced tomatoes, chicken broth, sour cream, cumin, ancho chile powder, oregano, and chipotle chile powder together in a large bowl and stir until sauce is well-combined.
Spread a few tablespoons of the sauce in the bottom of a 9×13-inch baking dish. Spread 1/2 the chicken over the sauce. Spread about half the sauce over the chicken and top with 1/3 the cheese. Spread a layer of tortillas over the cheese. Spread remaining 1/2 the chicken over the tortillas, and top with almost all of the remaining sauce, reserving 1/2 cup sauce. Top with 1/3 the cheese, remaining tortillas, the reserved 1/2 cup sauce, and remaining 1/3 cheese.
Bake casserole in the preheated oven until bubbling, about 40 minutes. Increase the oven temperature to broil. Broil the casserole until top is golden, 2 to 3 minutes more.
Don't forget to like & share this recipe with your friends, I appreciate your help & support, and if you would like to see more recipes check out the next page!