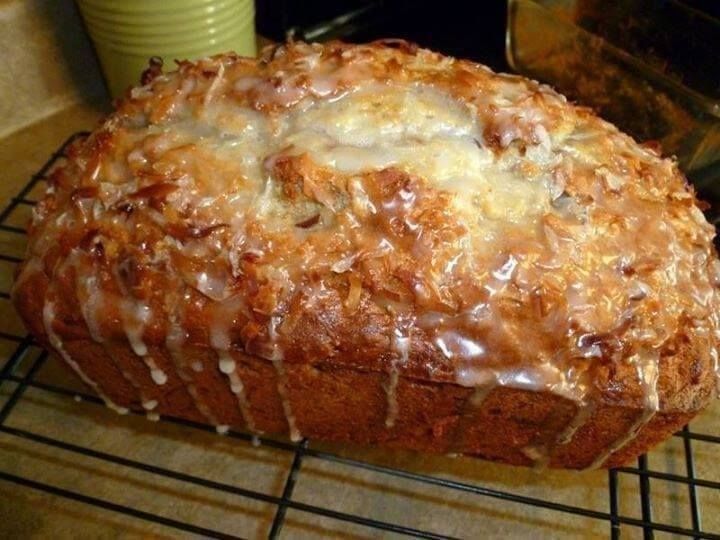 Ingredients
¼ cup melted butter
2 large eggs at room temperature
¾ tsp baking soda
½ tsp salt
1 cup sugar
1 ½ cups mashed bananas, this equals three large bananas 
½ tsp vanilla extract
¼ cup yogurt, plain
1 cup toasted coconut
3 tbsp Bacardi black rum
Glaze:
¾ cup confectioner sugar
4 tbsp lime zest
1 ½ tbsp Bacardi Black rum, divided
½ cup toasted coconut
How To Make Jamaican Banana Bread
Preheat the oven to 350*. Prepare a loaf pan by spraying it with non-stick spray
In a bowl whisk together the dry ingredients and set to the side
In a mixing bowl combine the butter and the sugar, mix well. Add the eggs one at a time, beating after each one. Mix in the bananas, yogurt, rum and the vanilla
Slowly add the dry ingredients to the banana mix and mix thoroughly
Beat thoroughly after each addition
Fold in ½ cup of coconut without over mixing.
Scoop the butter into the prepared loaf pan
Bake at 350* for 60 minutes
Test the loaf with a toothpick. If it comes out clean, it is done. If it comes out doughy, continue baking for a few minutes.
Once baked fully, flip out on a cooling rack and allow to cool
Next make the glaze, in a bowl, mix together the confectioners sugar, lime zest and rum
Drizzle this over the top of the loaf.
Sprinkle the lime zest and remainder of the coconut
Set off to the side to cool completely
Enjoy!