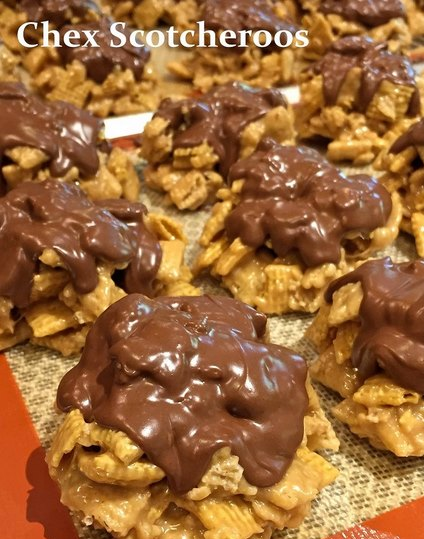 Ingredients
12 cups Chex cereal (I used corn and rice)
2 cups light corn syrup
2 cups sugar
2 cups creamy peanut butter
Line large trays or cookie sheets with parchment or wax paper or silpats. Measure Chex cereal into a large heatproof bowl. In saucepan, combine corn syrup and sugar over medium heat. Bring to boil then remove from heat and stir in peanut butter until smooth. Pour over cereal and gently fold together until cereal is completely covered. Scoop out onto prepared trays, I used a large ice cream scoop to make 30 stacks. When cool and set, make the topping.
Topping:
1 cup creamy peanut butter
1 cup chocolate chips
1 cup butterscotch chips
How To Make Chex Scotcheroos
In microwave safe bowl, add peanut butter, chocolate chips, and butterscotch chips. Microwave on 50% power for 3-4 minutes, stirring every 30 seconds until melted together and smooth. Spoon 1 Tbl of mixture over each stack. Let set up at room temperature or put in fridge to speed up the process. Makes 30 large stacks. Mixture can be pressed into a sprayed sheet pan and then drizzle topping over and cut into bars.