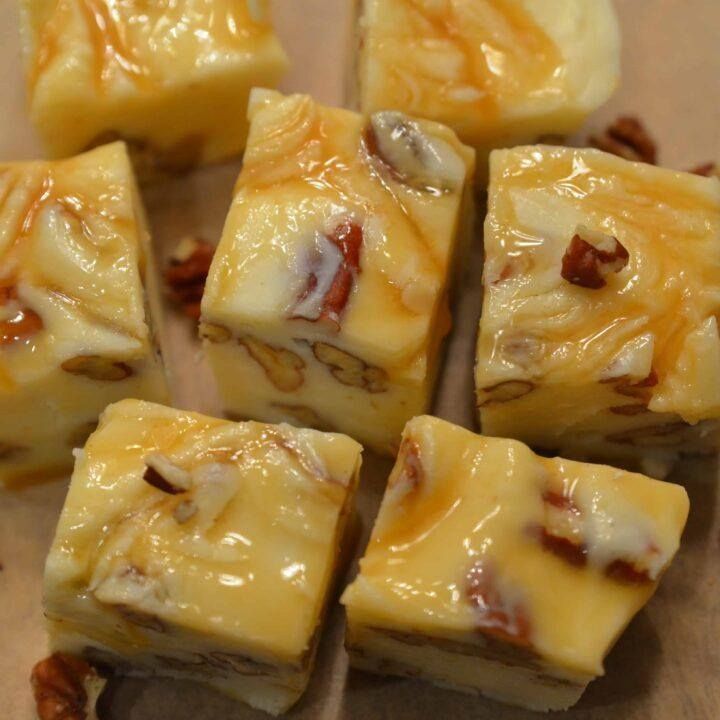 Ingredients
1 can Sweetened Condensed milk, 14 ounces
1 bag white chocolate chips
½ tsp vanilla
4 tbsp butter
1 cup pecans, chopped
1/2 cup caramel sauce
Caramel Sauce
1 cup sugar
1/4 cup water
1/2 cup butter
1/2 cup heavy cream
1 teaspoon vanilla
pinch of kosher salt
How To Make Caramel Sauce
In a heavy saucepan, combine the sugar and the water. Stir to combine and then cook over medium heat until the sugar dissolves; about 4-5 minutes. There is no need to stir, simply swirl the pan over the burner occasionally as the sugar dissolves.
Raise the heat to medium high and cook the sauce, swirling the pan occasionally, until it is amber colored; about 7-8 minutes. Add the butter, be prepared for it to bubble and sputter, lightly stir or swirl to melt, do not scrape the sides of the pan or splash sauce up the sides of the pan. (This will cause crystallization, if you scrape the uncooked sugars back into the sauce.)
Once the butter is melted, remove from the heat and add the vanilla, heavy cream and salt. It will bubble again, but will calm quickly. Stir to combine (again, not scraping sides of the pan) and then let cool before transferring to a jar and refrigerating for storage.
How To Make 5 Minute White Chocolate Caramel Pecan Fudge
Combine the chocolate chips, the milk, and the butter in a medium size glass bowl and heat in the microwave for 90 seconds.
Stir to combine and heat another 15 seconds. Stir and heat an additional 15 seconds, only if needed. There will still be a few pieces of unmelted chocolate in the bowl.
Stir until mostly smooth with just a few flecks of unmelted chocolate. Add the extract and pecans and stir to combine. Scoop onto a parchment lined tray. Spread with a spatula to approximately 1-inch thickness. Drizzle with caramel sauce. Lightly swirl the caramel into the fudge with a knife or the end of the spatula.
Chill until ready to serve. Slice into 1-inch squares and store in an airtight container in the refrigerator for up to a week.